AFC TURKMENISTAN 2020: OUR OPPONENTS IN GROUP STAGE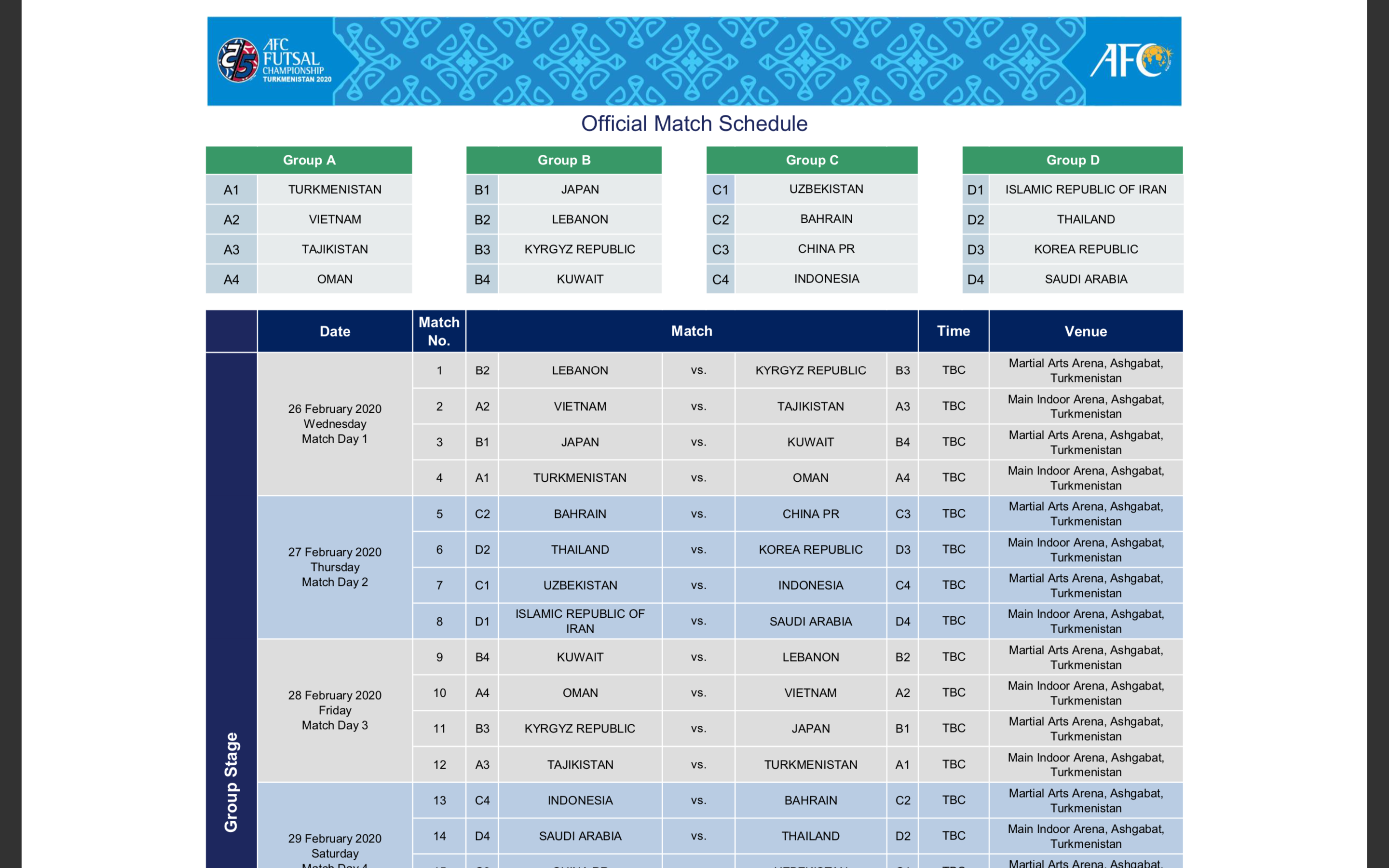 After got qualification last October in Ordos, The Dragons, will play Asian cup in Turkmenistan, with fits match on next 27 February. The next Asian Cup will be also valid as qualification for the next World Cup in Lithuania. Our Opponents in the group will be:

BAHRAIN finished as runners-up in its group, ahead of United Arab Emirates on goal difference, with both on seven points, while Kuwait emerged group winners with nine points. With Lino Gomes in the bench, very well know in Italian futsal league as coach/player, they replaied the partecipation on Taipei 2018. In the group they had a draw 3-3 with UAE, a victory 4-1 vs. Palestine in the second match, another victory vs. Kuwait, 2-0 and a defeat vs. Iraq 2-1, for the ticket to Turkmenistan

UZBEKISTAN won the group A of central Asian zone, with 3 easy victories vs. Afghanistan 6-2 in the first match, vs. Napal 4-1 in the second match and 9-3 vs. Tajikistan in the 3rd match. With a 3rd place in the last Asian cup in Taipei and ine of the 5 Asian teams in the last world cup in Colombia is without any doubts the strongest opponent in the group. The Rakmatov brother are their best players and they are a mix between phisical technique, experience and tecnique....a team that as a target the semifinal of the cup

INDONESIA, the last match, final in the AFF cup, a team that potentially can become one of the best team in Asia. The league is become every year stronger and better organized, futsal is very popular with great numbers of teams and players, and continuos rising of new and better players. Leaded by Japanese Kensuke Takahashi, has made abig improvement in the last 2 years, giving confidence to players and stability in teh performance......

Not an easy group, but...we have the confidence we can do that.